Friends of Fungi - Menla Fall Weekend Retreat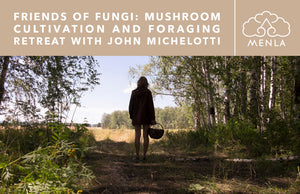 Friends of Fungi - Menla Fall Weekend Retreat
Fungi Walks, Indoor & Outdoor Cultivation, & Medicinal Workshops - Phoenicia NY
September 8th - September 10th
Through fun, hands-on activities learn low tech methods to cultivate gourmet and medicinal mushrooms, identify and harvest wild mushrooms, and make mushroom medicines.

Participants will create/inoculate and take home:
- Indoor Oyster mushroom grow kit
- Outdoor Winecap Mushroom Starter
- Chaga tincture
- Kombucha Starter
- Foraging hand lens and Mushroom journal
- Deeper connection with fungi, nature, self, and friends
From the largest living organism on the planet to the creation of soil, fungi play an essential role in sustaining life on earth. They have been recycling and helping to heal the planet for millennia.  Humans are learning to pair with fungi to improve our lives with the food and medicines this extraordinary kingdom/queendom has to offer.

Come explore the interesting and ancient relationship fungi have with our world and our culture. Learn about fungi and mushrooms in history and as we currently know them. Discussions will include: biology and ecology of fungi, mushrooms as food and medicine, how fungal allies can create resilience in our agriculture and communities, gardening with mushrooms, and mushrooms to heal the planet.
Catskill Fungi professional guides, presenters, and private-walk leaders:
Aubrey Carter, Erwin Karl, Gabriela D'Elia, and John Michelotti
Schedule
Friday, September 8
3 - 6 pm Check-in
6 - 7 pm Dinner
7:30 pm Evening Program Intro and Welcome Circle
Evening Presentation: Mushrooms 101 – Biology and Ecology of Fungi - John
Saturday, September 9
8 - 9 am Breakfast
9:30 am - 12:15 pm Mushroom Walk: How to identify mushrooms
12:30 - 1:30 pm - Lunch
1:30 - 2:30 pm Break
2:30 - 4 pm Afternoon Program 1
Outdoor Inoculation: Wine-cap in Wood chips & Slurry - John
Kombucha, fermentation & growing beneficial mycobiomes - Erwin
4 - 4:30 pm - Break
4:30 - 6 pm - Afternoon Program 2 - Keynote
Medicinal Mushrooms: Health for the Body, Mind, and Planet
Chaga Tincture making workshop
6 - 7 pm - Dinner
7:30 - 9 pm - Evening Program
Foraged Mushroom Collection Review
Indoor Inoculation: Oysters on Sawdust. Grow your own oyster kit. – Gabriela & Aubrey
Myco-Technologies - John or Biosonification with Roberta Trentin
9 pm - Optional: open discussion at fire pit. Music Jam (bring instruments)
Sunday, September 10
7 - 11 am Check-out of Rooms
8 - 9 am Breakfast
9:30 - 11:30 am Morning Program
Mushroom Walk
Mushroom Cooking Class & Tasting
Closing Circle
12:30 - 1:30 pm Lunch and Departure
*Please note that schedule is subject to change.